As of the 13th of June 2020, Miltown Brothers, have released their 5th Studio Album, "Stockholm."
Milltown Brothers are an Indie band that rose swiftly to fame in the 1990's with hits such as "Which Way Should I jump" and "Apple Green" they split up but after a long hiatus decided to get back together and release a new album very five years.
I've known the lead vocalist and the drummer for about 10 years now, having met them through work, and towards the end of last year, Matt – the vocalist – asked me if I would like to do the cover of the album for them.
I said yes before he finished the sentence.
It was never going to be a job, this one, it was always going to be a favour. Little did I know what the brief was going to be.
So Matt sat me down and said, "You know that we have a L.S. Lowry-style character that we've used on a bunch of our 'merch' for ages? Well, we were wondering if you could do us, you know, a picture of this square in Stockholm but make it look like L.S. Lowry had done it. Because that's what the first single is going to be. Sound all right?"
"Right," I said, thinking at about a hundred miles an hour how I was going to do a painting of a Square I had never been to, looking as if it was by a dead artist that had a truly distinctive style without making a pig's ear of it.
Well, after quite a bit of thought, a couple of tech tests with software and a hell of a lot of time sitting on my arse in a chair in front of a computer, I did it.
This is the first version I sent to Matt and the guys.
Not a single drop of real paint touched a canvas in the making of this image. In fact, not a penny was spent on the software either. Yes, I love open source software, did I mention that?
Every pixel here was created using Krita for the painting and finishing and Blender for the modelling, lighting and rendering. I have been wanting to put some of my on and off time using open source to better use. I have been using Krita for quite a few years now for drawing storyboards, creating illustrative assets for motion graphics and just drawing. Mostly this is line work, but Krita has amazing paint brushes as well as a very sturdy brush making pipeline. With this in mind I created several brushes that when combed with a custom built smear brush gave a pretty credible oil paint effect.
Using these brushes I create a colour test then I adapted it to become a bump pass. Bringing these into Blender, I used Eevee to quickly put the test onto a tile, flipped it in the 'y' axis and put in a couple of lights. This was the result with the two images used:
Knowing that it might just work, I began the process of finding the right info for the job. In other words, I began to trawl the internet for all the Lowry ref I could.
I managed to uncover a high resolution image of a painting that Matt had indicated was a good idea for the look and feel of the painting. With that, I then went through a combination of google images, google maps and every image bank on the internet to source reference images of Stortoget Square in the old town of Stockholm. If you've not heard of it, t's this one: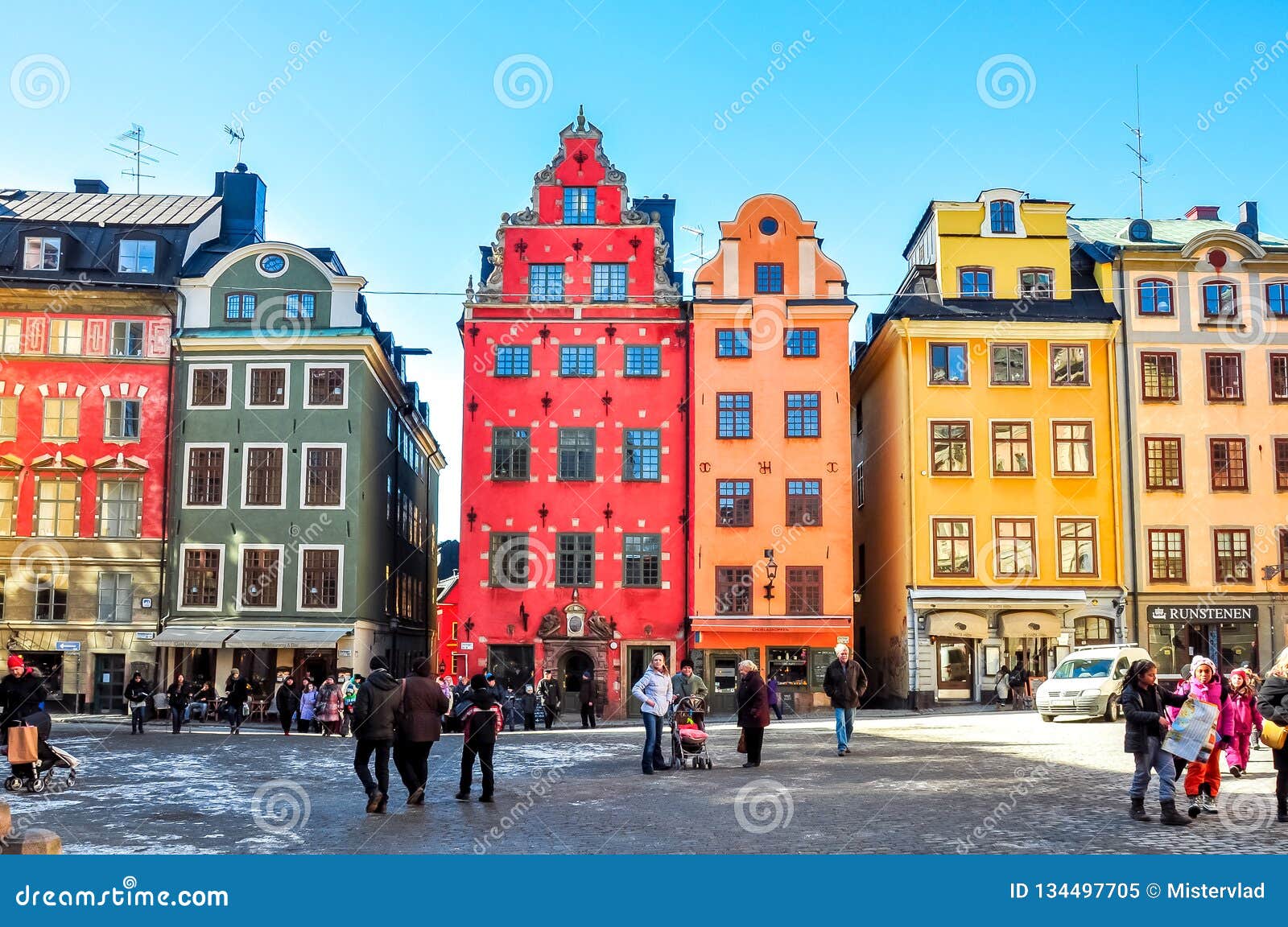 The next step was to do a line drawing of the square but as close a match to the line style of Lowry as possible. This took a while (phew, did it ever) and then I began the slow task of painting in the lines, adding the hue shifting fills, adding dirt, then adding strokes by smearing with with a custom bristle smear I made. But the time I had drawn in all the people added a shadow layer and finessed the colour with more dirt, adjustment layers and so on, I had around 20 layers. I then made a duplicate of the image, took all the saturation out and levelled everything to a black and white map, I had a bump map as well.
Making a very quick frame in Blender, I created a simple frame – based on one I saw online that had been around a Lowry during an exhibition several years ago – I made the shader almost exactly as I had before, added lights and rendered out the image at the top, minus the overlays.
I did a second version with a darker background, some light passes in Krita and a little noise and made this version:
After a bit of too and fro with Matt and the band, the final version, the one on the Album right now in Spotify is this one:


It turned out that everyone liked the image so much, they wanted it full screen. And in this image it is far easier to see, particularly in the sky, where the colour and the bump work well together.
And there you have it. All being well, I will have a tutorial properly up before long.
Oh and listen to the album if you get a chance. It's good.